Spectrum Space Ambassadors
Spectrum Space is grateful to have the support of a wonderful team of volunteer Ambassadors from all walks of life who give their time and talent to help promote Spectrum Space and raise awareness, and acceptance, about autism in the community.
Whether they're speaking at a community event, engaging with our members and supporters, helping us fundraise, or appearing in the media, they make a valuable contribution to our mission to improve the lives of Western Australians with autism, enabling them to connect successfully with others and the world around them.
We're better together
---
Goodwill Ambassadors
We are fortunate to have the support of two high-profile individuals who donate their voices, time and influence to help Spectrum Space by sharing our story in the media, speaking on our behalf, supporting and promoting our campaigns, and meeting our members.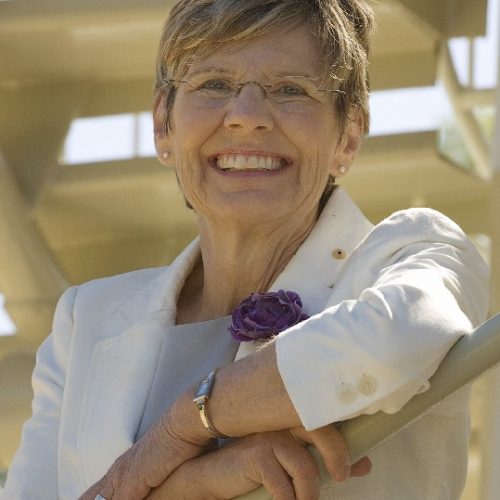 Professor Lyn Beazley
AO FTSE
After graduating from Oxford and Edinburgh Universities, Professor Beazley built an internationally renowned research team in Neuroscience that focused on recovery from brain damage, much of her investigations undertaken as Winthrop Professor at The University of Western Australia. Currently Lyn is the Sir Walter Murdoch Professor of Science at Murdoch University.
As Chief Scientist of Western Australia from 2006 to 2013, Professor Beazley advised the Western Australian Government on science, innovation and technology as well as fulfilling the role of science ambassador locally, nationally and internationally. Professor Beazley has received many honours during her career in recognition of both her professional achievements and her commitment to philanthropy. These have included the Officer of the Order of Australia, the Governor's Award for Giving, WA Australian of the Year for 2015. She is a Fellow of the Australian Academy of Technological Sciences and Engineering and of the College of Educators. Professor Beazley has also been inducted into the inaugural Western Australian Women's Hall of Fame and is a Companion of the Institute of Engineers.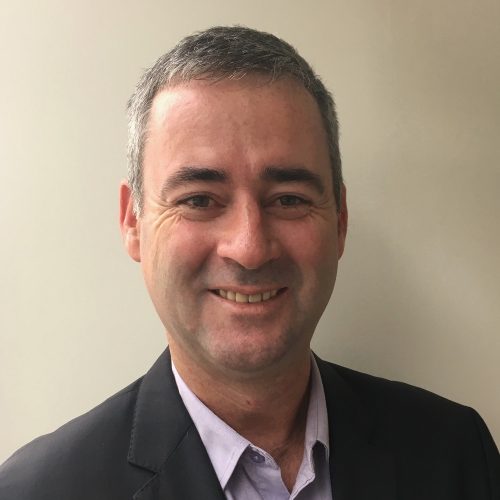 Michael Malone
Michael Malone founded iiNet Limited in 1993 and continued as CEO until retiring in 2014. During his tenure, iiNet grew to service one million households and businesses, with revenues of one billion dollars and a market cap of over one billion dollars.
Michael is a former Maths teacher, was a member of the State Training Board advising the Education Minister, the Australian Institute of Management, and a director of Scitech, WA's leading centre for the promotion of STEM for children (and enthusiastic adults!). He was a founding director and deputy chairman of Autism West (now Spectrum Space), which developed out of FOCAS ("Focus of Children on the Autism Spectrum"), an organisation with a long history of assisting families who are familiar with ASD. Mr Malone presently sits on the boards of nbnco, SpeedCast, Seven West Media, and Axicom, and was the founder of Diamond Cyber Security.
---
Community Ambassadors
These generous people include adults on the spectrum, families, carers, and a range of experts and professionals who share their experiences and insights on:
living with autism
living and caring for a loved one on the autism spectrum
supporting people with autism
the work of Spectrum Space
Our Community Ambassadors are role models who support the notion of equity for individuals with autism and illustrate the importance of diversity.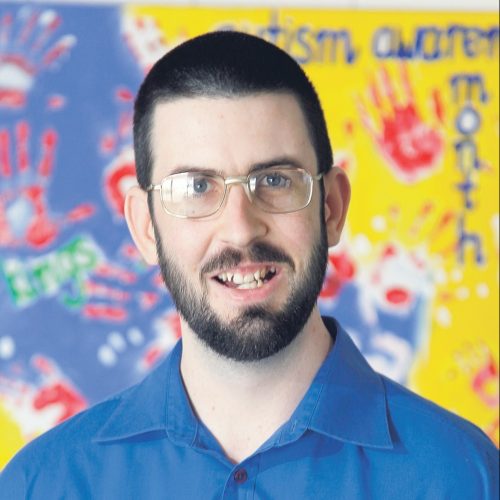 Scott Sadler
Scott joined Autism West (now Spectrum Space) in July 2013 and manages all IT related matters such as the website, social media, newsletters and membership registrations. He also assists with event management and administration duties.
Scott sits on the board as Webmaster of WAADF (WA Autism Diagnosticians' Forum) since 2012.
Scott grew up with autism and previously worked almost 10 years in a library. He has studied his Certificate 3 and 4 in IT, and enjoys snooker, reading, movies and supports the West Coast Eagles.
In 2017 Scott was a semi-finalist for the Western Australian Young Achiever Awards in the Community Service and Volunteering Award category.
---
Regional Ambassadors
Our Regional Ambassadors connect with people in regional communities, talking openly about their personal experiences with autism and the challenges of living in a regional community in Western Australia, an experience that can be incredibly isolating. They help reduce the feelings of isolation that often accompany living in a regional community, through a sense of connection and shared experiences.
Wayne and Belinda Owston
Wayne and Belinda Owston, along with their 2 young children Bridgette and Jake run a small beef and dairy operation in Whitby Falls and Serpentine, 50kms south of Perth.  In December 2015, their son Jake was diagnosed as autistic and their daughter Bridgette was diagnosed in march 2016. They believe the best way to deal with life on the autism spectrum is the rural setting, combining farm life, animal health, welfare and autism. The children are involved in all aspects of the farm and enjoy the experience, helping to develop their fine motor skills, communication and problem solving abilities, while enjoying fresh air and open space. Wayne and Belinda are very proud to take on the role as regional ambassadors for Spectrum Space; hoping they can continue to raise awareness within the rural communities of Western Australia as well as providing help and assistance where possible.
---
Youth Ambassadors
The Spectrum Space Youth Ambassador Program is a unique and exciting program providing youth aged 15-25 across Western Australia a platform to share their personal experiences of living with ASD as a young person, whilst raising autism awareness in schools, workplaces and local communities.
Youth Ambassadors will be supported to share their stories within schools, workplaces and the local community, and are provided with ongoing support.
Our Youth Ambassadors are also provided with opportunities and encouraged to join Spectrum Space projects such as the Youth Advisory Council.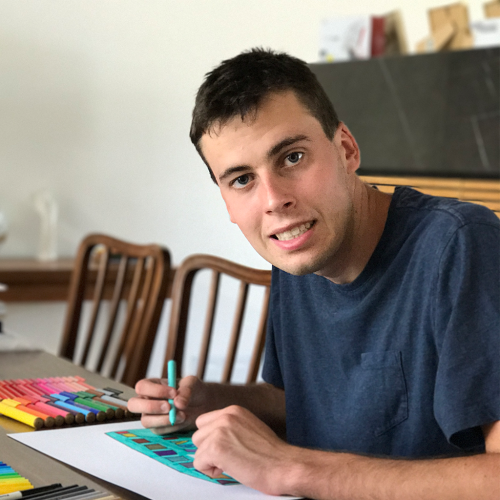 Charlie Paganin
Charlie Paganin is a young Western Australian artist who is on the autism spectrum. His favourite mediums are painting and drawing, and he enjoys the ocean and music. Through his art, Charlie is able to connect and communicate with the community about his world.
His style reflects his temperament, which is bright and honest and full of enthusiasm. Charlie completed WACE Visual Arts 1AB at Christ Church Grammar School in 2015 and attended Central Institute of Technology (TAFE) in the Art Start course. He exhibited at Mobilia's Exhibition 7, an exhibition of Fritz Hansen Series 7 chairs featuring other Western Australian based artists.
In 2016 Charlie received an Arts Nexus Grant to develop his visual art and held his first solo exhibition "Going around in Circles" in 2017,  and also exhibited at the PLC Art Exhibition. Both exhibitions were sold out.
Charlie received a further Nexus grant in 2017 and used this to develop a book, 'Charlie's Alphabet Book'. He attends Spectrum Space's social groups and delivered the closing address at the Spectrum Space Symposium with his brother Mikey in 2019. He works part time at Westcare in Nedlands whilst pursuing his passion for art at DADAA and home.  His most recent artistic pursuit was writing and starring in the movie "Charlie and the lost IPAD".