When Ardross woman Colleen Armstrong worked helping teens with disabilities in Perth high schools she saw first-hand the incredible calming effect manual arts like woodworking and craft had on their anxiety.
Now she is using that understanding at Proudly Productive, in Booragoon, a small business that gives young people with 'special' needs work doing-up furniture for sale. She also offers craft workshops, like needle-felting and sewing .
Colleen says while working as a education assistant, she'd always been impressed with how meaningful work like manual arts and craft reduced anger outburst and other anxiety related behaviours like impulsive movements and picking (nails and skin).
It's been her long-held dream to create a 'boutique' business, giving these teenagers an alternative to the old-fashioned sheltered-workshop types scenarios offered by big institutions, where work can sometimes be repetitive and unfulfilling.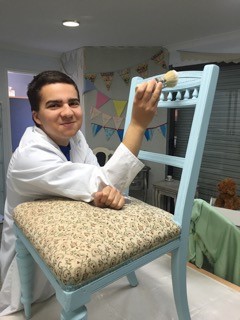 Colleen said she was finally inspired to make the move from schools to her own studio by former Seton Catholic College students Julian Gaglia and Ella Coombes, both of whom are kids on the autism spectrum whose anxiety and agitation are soothed markedly when they are busy doing craft or furniture restoration work.
Proudly Productive is meant to replicate a workplace as closely as possible, so clients learn the employment skills they require moving into paid employment. They check emails, do banking and operate a cash register.   It caters to individual needs, ability and concentration levels.
Colleen said the studio aims to create a calm, happy and productive workplace where young people build social and work skills. When supervising Seton Students on work experience Colleen was impressed how they showed a noticeable improvement in their maturity, behaviour and skills. When students finish year 12 and leave school, supported work places are limited so hopes the studio will help to fill the gap finishing school leaves while continually building skills.
The clients who make and sell the products will use some of the profits from the shop to enjoy group outings and meals together.
Julian's mother, Silvana Gaglia, an Autism West founder, says smaller personalised services like Proudly Productive are much needed alternatives to one-size fits all larger institutionalised care where work often lacks meaning and creativity:
Since going to Proudly Productive, Julian is a happier young man. Family and friends have also noticed a shift in his confidence, self-esteem and independence. Julian is exposed to new activities that are meaningful and allow him to explore his creative side. One of Julian's projects was to up-cycle his Nonnas's old kitchen buffet,  giving it a new lease of life. In a safe and supported environment he has learnt to use a screwdriver, sanding, prepping and painting wooden furniture.  He is so proud of himself !  Proudly Productive provides a great environment for young people with additional needs to grow. – Silvava Gaglia
The furniture restored by the young people at Proudly Productive can be purchased from the website and via their facebook page.