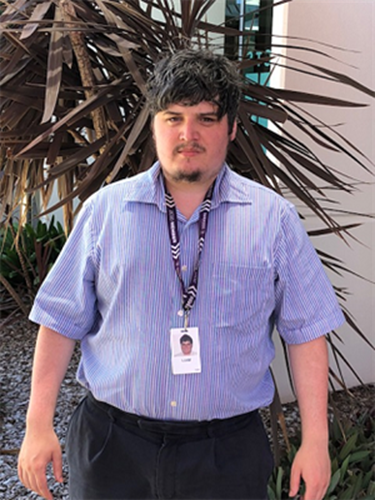 Recently, I was fortunate enough to present at the Asia Pacific Autism Conference (APAC) in Sydney about my experience working at RAC.
On my birthday, there was some good news and bad news. The good news was that I was going to the Asia Pacific Autism Conference (APAC) in Sydney (I love Sydney). The bad news was that I had to present a paper to an international (and domestic) audience which was scary. My paper was called 'In Search of the Ordinary' because I have had to work really hard at achieving ordinary goals such as getting a job and buying a house. I should explain that I have mild Cerebral Palsy and mild Autism.
My presentation was on a Saturday and RAC allowed me paid leave so I could attend the entire conference, which was between Thursday to Saturday. That gave me the opportunity to meet other autistic people and their families. It was a very big conference. There were about 1600 delegates and 300 papers being presented. Most of them were at the same time as others. Mum and Dad showed me how to read the programme and decide what to listen to as well as finding out which room to go to. The venue was a huge convention centre with three levels, located in Darling Harbour.
The conference started well. The keynote speaker said employers should give autistic people high expectations with high support so they can use their strengths, skills and interests. He said, "Everyone with autism has something to contribute". I agree and that was really what my paper was about.
My story was about how hard I worked from preschool to now, to get to the point where I can be independent. Sometimes, at school and TAFE, there wasn't enough support or understanding of my disabilities and strengths. That changed when I started working at RAC. They researched autism and asked me what help I needed. They kept giving me more responsibility, but also found ways to work with my disabilities. They made adjustments for me, but they didn't make a big deal of it, or focus on my disabilities. I am a huge Dockers supporter and RAC has always treated me like, "That's Liam and he's a huge Dockers fan," not, "That's Liam and he's disabled." My bosses at RAC warn me when there is going to be a change so I can prepare myself. They give me jobs on the computer because I am quick with technology and give me written instructions. These strategies can really help. I finished my paper by talking about how my job at RAC has given me the chance to live independently. My sister and I have decided to build a house.
It was scary presenting the paper because I'm not comfortable with public speaking. Dad said I did it with one breath, which I don't believe. After giving the paper, some parents congratulated me. They said, "You've given us hope, you made us cry and you're inspirational," so I believe it went really well.
We were so busy with the conference that we didn't really have much time for sightseeing, but we did squeeze in the zoo, Manly and the Australian Maritime Museum. We also had time to just walk around Sydney.
Overall the conference was exciting, stimulating and motivating. There were a lot of research papers, which were very difficult to understand, but there were some papers from autistic people talking about their own experiences. I was impressed by autistic people who were able to advocate for themselves and others, achieve university degrees, travel and live independently. There was a lot of talk about focusing on strengths rather than weaknesses.
I look forward to attending future APAC conferences so I can meet with autistic people and their families.
About Liam Dow-Hall:
Liam lives in Fremantle and is an Administration Assistant for RAC. Liam strives to try new things and lead an independent life.