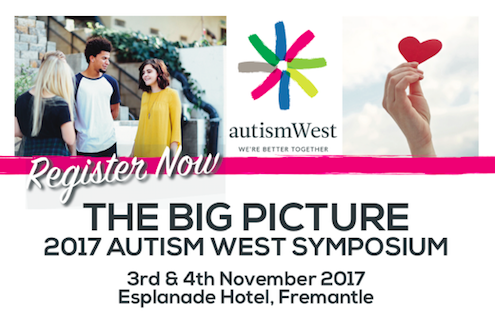 YOUR INVITATION TO HOST AN EXHIBIT AT THE 2017 AUTISM WEST SYMPOSIUM
"Sometimes it is the people no one can imagine anything of who do the things no one can imagine." – Alan Turing
We're inviting passionate and positive organisations like yours to host an exhibit at our 2017 Autism West Symposium!
Bigger and better – with additional space for exhibitors – this is a great opportunity to network and connect with the community. To be held on the 3rd and 4th of November 2017 at the Esplanade Hotel in Fremantle, the Symposium is aimed at people on the autism spectrum, their families and carers, as well as educators and health professionals.
Click here to download the event flyer.
This year we will be looking at the 'The Big Picture', focussing on life beyond childhood as people on the autism spectrum move into adulthood, with a focus on social skills and relationships, independence, engagement, wellbeing, and employment.
Having already received expressions of interest to attend, our 2017 Symposium is anticipated to attract 250 +delegates from across Western Australia, as well as an impressive line-up of speakers from across Australia, and internationally.
Booths are offered on a first come first served basis, so if you are interested please contact Janine Ripper, the Event Coordinator, at marketing@autismwest.org.au or 0417 91 66 55 as soon as possible to reserve your spot.
Click here to download a copy of our 2017 Autism West Exhibitor Package.
Exhibit Sponsor
We'd like to welcome on board our first Exhibit Sponsor! 
SMP lifeskills2work are passionate about providing services to people with disability which support them to lead the lifestyle of their choosing. They pride themselves on delivering flexible supports and services, according to each individual's goals and needs.