Writing the book was actually one of the best ways in which I could address my challenging past. My motivation to write that book was immense. I was driven to write it because it was a catharsis, a means of putting the awful things from my earlier life into a useful format and exorcising those demons. Drafting the book took four weeks and editing it took two. It almost took the publisher longer to send me a 'we are sending you a contract now Ms Author' email than the book had taken to write!
After I wrote the book my motivation turned to other things – getting a professional job among them. While I was strongly motivated to do these things, they were not a passionate interest.
For a few years after i wrote my book I had no clear motivation.
I was a poor sad person  without an interest or driving passion. I had some vague notion that my book wold be discovered and I would have a bigger audience, that I would be asked to speak at conferences and things. My mentor writing my autobiography was author and all 'round legend Donna Williams. Emulating her professional life seemed like a nice thing to do. Donna was always getting emails form overseas and being asked to do things. 'That's really nice' I thought but it was not a passion. You cannot manufacture a passion – it is either there or it isn't.
In 2012 I met a young Autistic man who was so lacking in independence it horrified me. Anyone who has seen one of my resilience or employment presentations would know this young man. I call him'Adam' publicly. When I told Adam that I worked for the public service, had written a book and was autistic he told me flatly that I was a liar. Apparently my life was impossible for an Autistic person. I realised that the Autism diagnosis – which  i had always though led to positive things for those diagnosed – in fact could lead to an unintended consequence of Autistic people lacking confidence and feeling unable to join the world in the best way for them.
Adam and his situation stirred in me that dormant passion.
I didn't care whether I was well-known, wrote books or anything else but I was going to make it my mission to support Autistic young people to aim for their potential and hopefully reach it, whatever it may involve. Within weeks of meeting Adam I had starting drafting what would become my second book, The Wonderful World of Work. This book is aimed at teens on the Autism spectrum to build their understanding and confidence around employment/ It emphatically places the idea in the world that Autistic people can and do work and with the right supports and understanding from employers and colleagues the workplace can be a positive place for us. That book was also completed in a short space of time and accepted almost without amendment. It was at around the time I wrote this book that I noticed a change in how my work was perceived within and out of the Autism community. I was approached to audition for a TEDx talk in 2013, invited to all sorts of conferences and events.
After six years of being a little-known Autistic author, the direction of my work changed. I went from having some vague notion of sharing my message on autism without really understanding what that meant to being filled with a fire, a drive to actually change the world in whatever small way I could.
I went from having some vague notion of sharing my message on autism without really understanding what that meant to being filled with a fire, a drive to actually change the world in whatever small way I could.
After a few years my passion is as strong as ever. My love is my advocacy work and writing. People ask me how I do all the work I do. I always answer 'because it isn't work.' I like to imagine an Autistic child who loves My Little Pony (or whatever) in relation to my passion.  Picture that child and their love for MLP, their encyclopaedic knowledge of that world. Then transfer 'My Little Pony' for 'Autism advocacy' and 'child' to 'Jeanette'.
I suppose that brings me to crux of this post.
Autistic children's passions are often called obsessions and seen as a distraction at best or an annoying waste of time.
Their obsession with a topic is often greeted with adults telling them to stop talking about their interest.
Sometimes kids are kept from their interest.
Calling something  an 'obsession' sort of sets up a semantic issue where that thing is devalued from the outset.
Last year I was named ACT Volunteer of the Year all because of my 'obsession.'
People tell me all the time that my work has helped them or their kids. But why does my interest get to be valued and respected when it is as much an 'obsession' as the more esoteric interests of children and adults? My passion was fed by my passions as a child. In my early life I had some interesting passions – cats, fungi, space exploration, Dr Who, the Cold War and Trotskyism. Wen I was a child and teen I was often told to stop focussing on my interest.
So let's have a quick look at the jobs my 'obsessions' might have led to had I kept them up:
Botanist / mycologist
Author
Actor
Veterinary surgeon or veterinary nurse
Astronomer
Physicist
Historian
Academic in one of a number of fields
For Autistic children – and adults – their passion is a key part of their enjoyment of life. Taking away their interest actually may mean taking from them the one pleasurable they have in a hostile and unpredictable world. Certainly if interests relate to dangerous activities this requires attention but most of our interests are harming no-one and helping us to enjoy our world.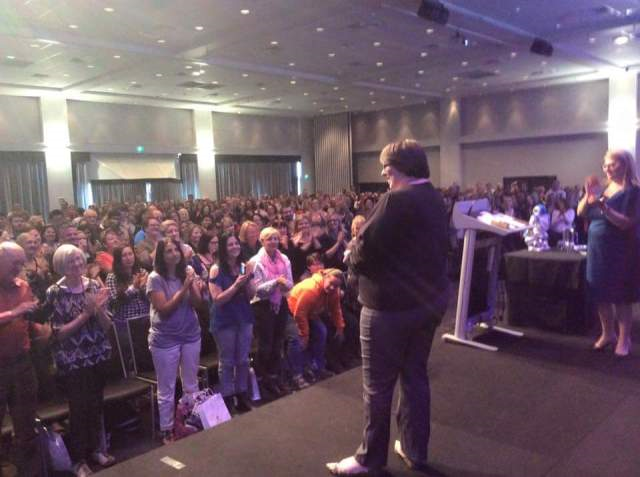 About Jeanette Purkis:
Jeanette Purkis is an author, public speaker, and autism advocate who has a diagnosis of Asperger syndrome and atypical schizophrenia. She has worked full-time in the Australian Public Service since 2007 and has a master's degree in fine arts. She is the author of three books on elements of autism and hosts an Internet radio show. She has been facilitating a support group for women on the autism spectrum since 2011. She was named the 2016 ACT Volunteer of the Year and was a finalist in the 2017 ACT Woman of the Year awards. Jeanette is speaking at the 2017 Autism West Symposium, to be held in Fremantle, Western Australia, on the 3rd and 4th of November 2017. Book your tickets now!
*This post was originally published here.