Welcome Sami!
Sami Mounsey has volunteered in our Awesome and YES groups and we'd now like to welcome her to our team as a new group facilitator in Rockingham! Sami has some great strategies she uses to celebrate the fact that, just like everyone else, there are some things about her that are different. Read on!
Tell us more about you, Sami!
I'm Sami and I am thrilled to be joining the Spectrum Space team as a Group Facilitator having been a volunteer since the beginning of this year I have loved every moment. I have been volunteering with the Awesome and YES groups in Rockingham which is only about 10 minutes away from home.
I am a wife and mum of 3 kids, 2 of my own Scarlette aged 6 and Jesse aged 7 as well as my stepson Jaydon who just turned 14 in May. Plus my Husband, a dog (Jersey), a cat (Djuripin which is Noongar for Joyful) and 2 snakes (Crash and Bernie) we have a pretty full house.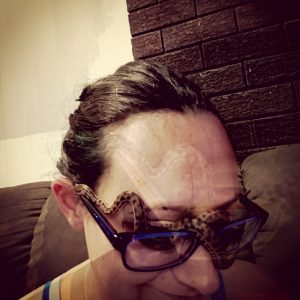 I'm also a Noongar woman from the Balladong and Willmen language groups. We have just bought some land in Balladong, just next door to York for our kids to develop their cultural connection to Country. We also love to get out on our dirt bikes and then sit around the fire and using it for cooking dinner.
On top of that I have worked at Perth Zoo for the last 9 years, and still will be while in this new role as well – I am there Monday to Friday in the mornings and early afternoon and then head off to Groups on Tuesdays and Thursdays in Rockingham. I book in all of the school excursions, including but not limited to liaising with teachers on appropriate programs for their students. I look after main stream schools but also support Education Support Centres throughout the booking process to ensure they have everything they need to organise an excursion for students of all needs levels. Plus there are many other tasks that I am responsible for outside of school bookings.
Tell us some more about connection to country?
My connection to country is a feeling of belonging I have when immersed in my culture through activities, celebrations and ceremonies. Plus an overwhelming sense of home when I am on the exact land my ancestors lived on, tens of thousands of years ago. Its not something tangible but a spiritual feeling of just being home. As soon as we hit the dirt on our property I feel more home than I have ever felt anywhere else.
What activities to you do with your kids?
We have Bush Lessons when we visit our property in York. We do an acknowledgment of country (designed for young children) and then choose a plant or animal to learn about. We then find out its Noongar name and how it related to our people. We also learn about seasons and are about to embark on learning the different signs our environment give us to alert us of the changing season.
How can organisations such as Spectrum Space be more inclusive of our Indigenous people?
Having Indigenous staff is always a big plus as well as acknowledging country when holding groups and celebrating Indigenous days/weeks of celebration by having cross-cultural learning opportunities for staff and participants.
What's your favourite thing about working with the kids in group?
Every session is different with so many awesome kids who have a wide range of interests. I always learn something new from my groups every week.
What are your passions/interests? I'm guessing animals, science and art?!
All of those would be correct with conservation and sustainability one of my main passions in the animal field as well as all the cool things different animals can do or how they are adapted differently to other species. Science, well Biology, Chemistry, Physics as well as a bit of Entomology (the science of insects). I just like to look at the world in ways I can learn new things all the time.
Art – I love all art and recently have been creating things using paint, epoxy resin and have been researching upcycling for sculpture art (both aesthetic and functional) as our property came with a lot of things left behind by the previous owner I am excited about re-using. I have dabbled in drawing and needlework as well but really just love to create.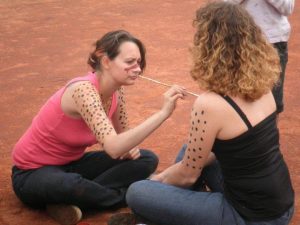 Your superpower?
Passion and commitment. Alternatively, I could easily don a cape as "Organisation Lady" or "Comedian Woman".
Fun fact about you?
Not everyone knows this, but I have told my kids that I am a cyborg due to my chrome dental plate (I am 32, so a little younger than the stereotypical denture wearer). I have had to have some of my front teeth removed (and work in customer service) so have a denture plate replacing the top front teeth. Most of the kids think its a bit cool and slightly weird but I don't mind people knowing that I am also different and that having something that is a little outside the usual is something that can be embraced and enjoyed rather than hidden in fear of judgment and ridicule.