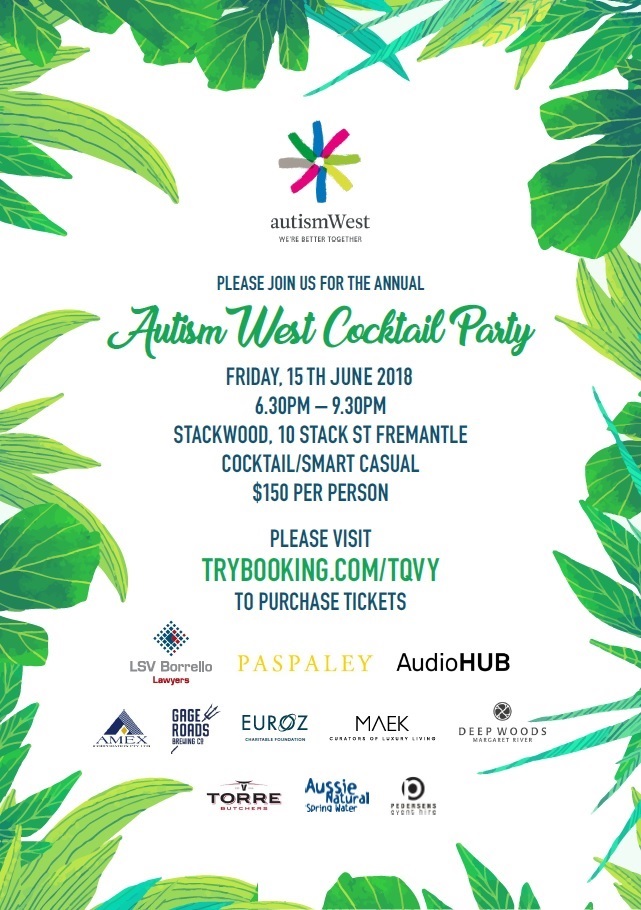 After the huge success of the 2016 cocktail party, Autism West is pleased to invite you to our 2018 event to be held in Fremantle on Friday 15th June. We expect it to be a night to remember with exceptional food, French champagne, premium wine and stadium quality beer. Thank you to our product supporters Torre Butchers, Deep Woods wines, Gage Roads & champagne sponsors, MAEK.
100% of ticket sales revenue will go straight to Autism West. This has been made possible by the generous support of LSV Borrello Lawyers, AudioHUB, Amex Corporation, Paspaley Pearls, Euroz Charitable Foundation, Pedersens Hire, Paul Salmeri (chef) and Vince Salpietro (Grand Cru Wines). In 2016 tickets sold out within weeks. If you don't want to miss out on the party of 2018, then be quick and buy your tickets.
Event Sponsors
Thank you for your interest in the Autism West Cocktail Party. If the Trybooking page is closed, you are still able to purchase tickets by contacting Alison Davis on 0411 435 354.