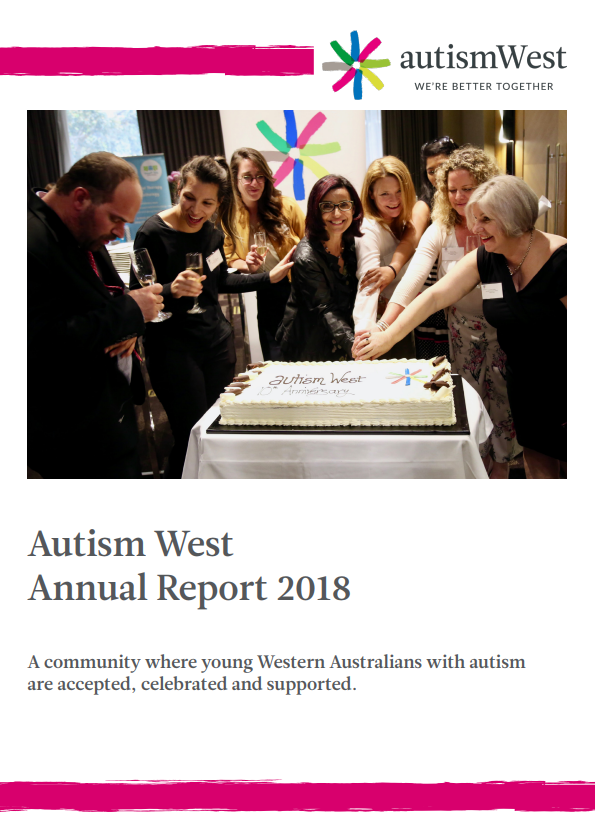 The 2018 Autism West Annual Report showcases some of the highlights of our year, as well as our financial performance.
Highlights for 2018 have been:
Celebration of our ten year anniversary!
Expansion of our social group program to include Rockingham Awesome and YES groups, Step Into Social Marangaroo and Step Into Social Employability in Fremantle.
Be My Koorda, an indigenous children's lego club partnership was established, with Autism West supporting them with use of our premises, and assistance with securing grant funding.
Our Street Smart Life Smart free workshops ran throughout 2018, available to individuals 16 years and over, covering topics such as dating, relationships, moving towards independence and understanding personalities.
Autism West became a registered NDIS provider in early 2018.
We established our Youth Advisory Council.
Autism West supported participants who began their Duke of Edinburgh Award journey.
We continued our Talk Series in March 2018 hosting An Evening with Robyn Steward at Notre Dame University.
Autism West hosted an Open Day in April to welcome our community to our Fremantle office to meet the team, celebrate our groups and Autism Awareness Month.
HBF Run For A Reason in May 2018 was supported by staff, participants and families raising much needed funds and was a great event to be involved in. We look forward to expanding our involvement in this event in 2019.
In June 2018 our cocktail party held at Stackwood in Fremantle was another great success in our fundraising program.
In September 2018 the Bankwest Curtin Economic Centre published its research report 'A Strengths Based Program – for adolescents with autism'. Autism West was a research partner in the report. The findings validate Autism West's emphasis on how strengths and interests can be used to motivate, engage and build self-determination. The report is available here.
In addition to our flagship annual Symposium in November, a unique calendar event now in its 4th year, Autism West also launched a breakfast forum. "Employment Diversity: Future-Proofing The Workplace" targeting employers, was aimed at introducing the benefits of neuro-diversity in business innovation. The event was attended by 50 representatives from Perth's corporate sector and was very well received. This compliments our developing service model around employability.
In late November Autism West hosted our inaugural High Tea Garden Party. This was supported by over 100 women with proceeds being earmarked for development of services specifically for women on the spectrum.
Thank you for your continued support of our organisation and all that we do, as we definitely could not do it without you.
Thank you also to the Autism West team for their efforts throughout 2018. Without the dedication, hard work and passion of our Board Members, committees, staff, interns and volunteers, Autism West would not be where it is today.
You can access the 2018 Autism West Annual Report here.
Your support is invaluable
We're here to help people with autism lead the most fulfilling lives possible and to assist their families at the same time. We can only do this with the support of people like you who and the generous businesses that sponsor us.
With donations of money and time we can continue to create better futures for everyone affected by autism. Find out more about how you can support Autism West here.